Accessibility Quick Links
Online Fraud Reporting and Alerts
Report Online Fraud
To report suspected fraud, or if you think you have been a victim of fraud (email fraud, text message fraud, identity fraud, phishing, spyware):
Send an email to: fraud@cibc.comOpens your email app.
Describe the fraudulent incident
Attach or include any fraudulent e-mails you received or anti-virus/anti-spyware scan logs
Interac e-Transfer® Fraud Alert
There are Interac e-Transfer® branded phishing emails currently in circulation targeting clients of all financial institutions. These emails generally offer refunds from tax authorities or large companies to try and make you select a link and provide personal information. Do not select any buttons or links directly from the email. We encourage you to be cautious of unexpected payment offers. If in doubt, contact the company or tax authority who sent the funds to confirm that the payment is legitimate or email fraud@cibc.comAn email window will open.
The following is an example a recent Interac e-Transfer® branded phishing email:
From: notify@payments.interac.ca
Sent: Monday, July 10, 2017 6:39 PM
To: [Client]
Subject: INTERAC e-Transfer: [large company or tax authority] sent you money.
Hi [Client Email]
You have received $456.00 (CAD) from [large company or tax authority]
Deposit your money
Expires: July 28, 2017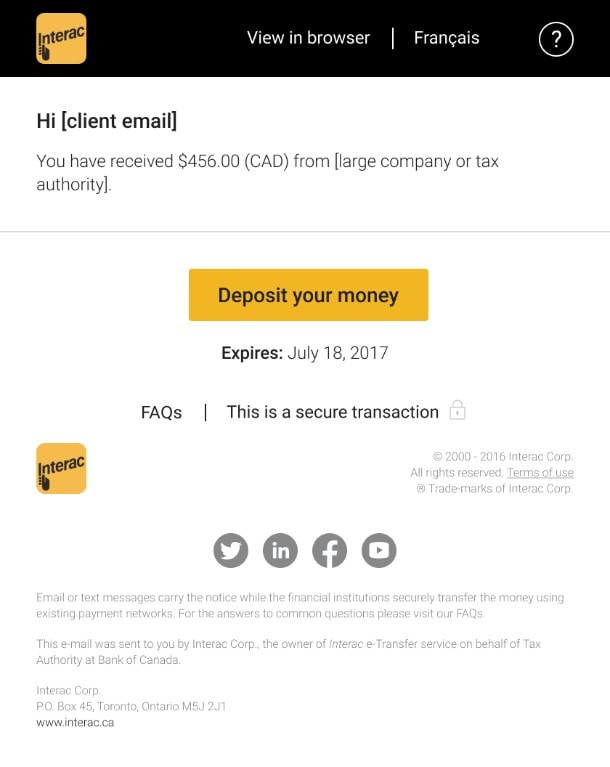 Online Fraud Alerts
There are "phishing" emails currently in circulation targeting many financial services clients, including CIBC online services clients. CIBC wants to assure our customers that authorities are notified regarding messages targeted at our customers.
As some phishing sites have been known to distribute malicious software, we strongly recommend that you do not select the links provided in a phishing email, as visiting these sites could place your computer at risk. We also recommend that you regularly check your deposit accounts and credit card statements to ensure that all transactions are legitimate.
These are recent fraud alerts we have received. Select the message subject to review the related message.
Contact us
If you suspect that you have been a victim of fraud, contact: