Accessibility Quick Links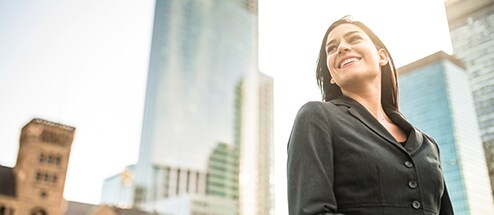 We work with you to offer a range of customized solutions for your company whether you are involved in residential and commercial land development, construction of industrial, commercial and residential projects, or want to maximize the value of your corporate real estate assets.
CIBC offers your company a full array of financial services. With offices across Canada, our team is comprised of experienced real estate professionals with diverse expertise across asset classes who share one goal – to help find the solution that works best for you.
We are experienced in working with both real estate and non-real estate companies that have significant real estate assets. Corporate real estate can represent a significant portion of your company's assets, even though managing them may not be your core business. Let our team of experts provide creative financing solutions to help your company extract maximum value from its real estate assets throughout its entire life.
CIBC can help with your company's real estate financing needs if:


CIBC can help with your company's real estate financing needs if:

Your company requires financing for new development, mergers or acquisitions, restructuring, and/or private placement
Your company currently owns or leases its facilities
Your company has specialized facilities and/or location requirements
Your current facility/structure cannot accommodate future growth

Key Benefits

Key benefits

A team of experienced real estate and corporate finance professionals working together for your business
Specialized market advisory designed to help you consider your real estate options including where or whether to buy, hold, sell or build
Expert development advisory and customized options for developing/constructing your facilities
Financing that helps you take advantage of favourable market conditions and opportunities