Accessibility Quick Links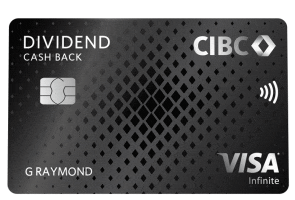 Treat yourself to some extra cash back. Then, start earning up to 4% on your everyday purchases.ⓘ
Gas, groceries, dining, transportation – make every cent count.
A card that's award-worthy





Maximize your cash back with these perks
Get cash back on demand
Redeem your cash back at any time when you have a minimum of $25 through CIBC Online and Mobile Banking® or by calling us at 1-800-465-4653 Opens your phone app.. Or wait to get your cash back annually as a credit on your January statement.
Annual fee
$120
(first year rebatedⓘ)
$30
for each additional card
(3 card maximum. First year rebated.ⓘ)
Interest rate (purchases)
RDS%rate[2].VWDIV.rate(null,null,6,null)(#R#)%ⓘ
Minimum annual income
$60,000
(personal)
Not the right card for you?
Here's another great option for a cash back credit card with a lower annual fee.

CIBC Dividend Platinum® Visa* Card

Earn 10% cash back for the first 4 statements on net purchases of up to $2,000.ⓘ