Accessibility Quick Links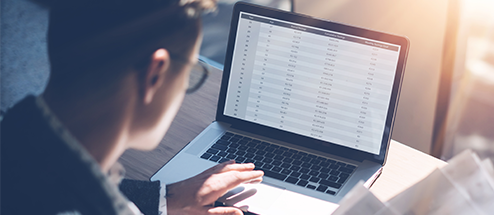 With CIBC payment solutions, you can pay suppliers or employees on time, in Canadian or U.S. dollars, anywhere in Canada, quickly, easily and with confidence. CIBC payment solutions offer a range of benefits that can help your business succeed. Let us help you manage your payables in a way that is right for your business.
Key Benefits

Gain better control of your cash flow

Control when payments are disbursed and debited from your account and take the guess work out of cash flow forecasting
Increased flexibility to choose which CIBC bank account(s) your payments are withdrawn from
Future-date your payments to avoid missing due dates and more accurately predict cash flow 
Reduce risk and errors with our electronic payment processing

Save time and money

Avoid potential mail delays and reduce costs by eliminating the need for cheques, envelopes and postage
Enjoy the flexibility of submitting electronic payment files with multiple due dates
Send your payment and detailed remittance information electronically to your suppliers in the currency of your choice through CIBC's Cash Management Online® (CMO)

open in new window

or send files directly from your treasury platform
Reduce the risk and cost of fraud with early detection
Reconcile payments quickly and easily with detailed payment information
Reduce costs associated with bulk payment files and payment processing

Offer convenience to your employees and suppliers 

Send money on time, directly to your employees' and suppliers' bank accounts
Provide suppliers with convenient access to funds

Improve fraud detection and corporate control

Daily reconciliation of cheque disbursements and review of irregular cheques lets you identify fraudulent activity early 
Flag suspicious items for review at presentment, rather than during statement reconciliation
Get more control over your corporate disbursements with detailed reports    
Use your in-house systems to their fullest extent to manage payment reconciliation

Products & Services

CIBC Electronic Funds Transfer - Direct Deposit

Issue timely electronic Canadian and U.S. dollar payments to employees or suppliers anywhere in Canada, quickly, easily and with confidence.

CIBC Automated Clearing House U.S. Dollar Cross-Border Payment Service for Payables

An easy and cost-effective way to make payments to employees' or suppliers' accounts at any qualifying financial institution in the United States. Know exactly when your funds will be transferred and ease concerns about fraudulent, lost or misdirected cheques.

CIBC Pay Electronic Data Interchange (EDI)

An easy way to make your Accounts Payable process more efficient. Pay EDI can be used to make EDI-formatted payments to your suppliers in Canada. Simply send us one file that indicates the type of payment you wish to make, and we will provide remittance details to your suppliers, using Message Authentication (MACing) and encryption, in the format you have requested.

CIBC Corporate Clearing

A cost-effective, reliable cheque clearing service for processing high volumes of cheques. Use your own in-house systems to closely manage the daily processing and reporting of paid cheques.

CIBC Positive Pay

An automated cheque-matching process that compares daily paid items against your issued cheques to help you quickly identify fraud. Mismatched items are reported as suspect for pay/no pay decisions.

CIBC Wire Payments

A reliable way to send time-sensitive payments to recipients within Canada and globally, in any major currency.

CIBC Integrated Payments

Simplify your business operations by combining your payment types into one file. With CIBC Integrated Payments, give payment instructions and receive centralized automated reports that provide a closer look into your finances at a file and payment level. Reduce the number of payment files needed for day-to-day payments, lowering your costs and making payment processing easier to understand.

Credit Cards

Based on the needs of your company, choose from a wide selection of credit card solutions, from travel rewards to employee purchase controls to enhanced expense management.