Accessibility Quick Links
Payfirma Merchant Services
A simple way to collect debit and credit card payments
CIBC can connect you with external vendors such as Payfirma to help you collect debit and credit card payments.
Payfirma offers a range of hardware and software solutions to help you accept debit and credit card payments in stores, online through your company website, or and even remotely using smartphones* and tablets.
Payfirma's secure payment platform processes transactions and keeps data from all sales channels in one place. This allows Payfirma to provide you with real-time, consolidated reporting on all your sales, and helps you make smarter business decisions about your customers, products and employees.
 
Improve customer service
Offer convenience to your customers by providing them with multiple ways to pay
Bring service to your customers homes by accepting payments online or in the field using mobile devices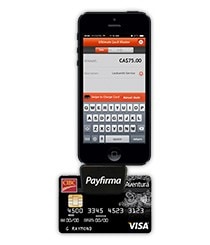 Increase sales opportunities and help reduce costs
Accept payments across multiple channels - mobile, in-store and online - to increase sales opportunities
Get faster access to your funds, avoid trips to the bank and reduce the costs associated with collecting and processing cheques by having funds deposited directly to your bank account
 
Stay in control
Get real-time, consolidated reporting when you want it - not at the end of the month
Access robust data to identify your top-performing sales teams or employees as well as your most loyal customers
 
Run your business your way
CIBC Cash Management Solutions can help you take better control of your banking needs - giving you more time to focus on what matters to your business.
Get started today. Talk to your CIBC Representative or call 1-800-500-6316.
---
Save your recently viewed products
Turn on this feature so you can easily come back to CIBC pages you've visited. You can turn it off or clear your saved history any time.
Terms and conditions

Show or hide

CIBC Merchant Services are provided by 3rd party vendors, Payfirma Corporation and Global Payments.

™ Trademark of CIBC.

*Data plan and network connectivity required. Some areas may be out of network range.

CIBC may receive a commission for customers referred to Payfirma.

The above is intended to be only a general description of this product and its features. Some conditions may apply. CIBC reserves the right to change or discontinue this product or any of its features at any time. This product and its features shall be subject to the terms and conditions of the applicable agreement governing its use.

®1 iPhone, and iPad are trademarks of Apple Inc., registered in the U.S. and other countries.

BlackBerry® and related trademarks, names and logos are the property of Research in Motion Limited and are registered and/or used in the U.S. and countries around the world. Used under license from Research in Motion Limited.

™1Android and Google Play are trademarks of Google, Inc.