Accessibility Quick Links
Enjoy a special interest rate today
Enjoy a special interest rate
Whether you're saving for a new car or turning your current home into your dream home, a TFSA (tax-free savings account) can help you get there sooner.
Grow your savings,

tax-free
Tax-free interest is calculated on your full daily closing balance and is paid monthly.
Access your money anytime
Withdraw your cash tax-free whenever you need it. You can re-contribute the amount you've withdrawn next year or later.
Turn your refund into more funds
Got a tax refund this year? Your TFSA is a great place to save and grow that money, no matter what you're saving for.
Contribute to your TFSA for life
Unlike a RRSP (registered retirement savings plan), you don't have to close your TFSA at a set age.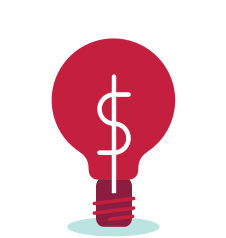 The TFSA dollar limit is $6,000 in 2021. Contribute at least $25 and up to your TFSA contribution limit. Plus, your unused TFSA contribution room doesn't disappear in a year; you can carry it forward.1
To pay no taxes on the interest you earn, make sure to track your TFSA contribution room and stay under the limit.