Accessibility Quick Links
Banking Offers for Foreign Workers
Make your life in Canada a little easier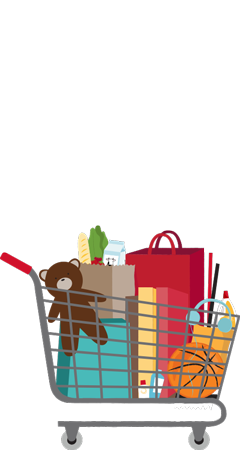 As a temporary resident working in Canada you'll get:
CIBC Smart™ for Foreign Workers (a CIBC Smart™ Account with special discounts for temporary residents working in Canada)
A bank account with unlimited transactions and pay no monthly fee for one year2
Unlimited Interac e-Transfers®
Free paperless record keeping3
Plus, enjoy the convenience of the CIBC Advantage Debit Card®
Get 24-hour access to your account through CIBC branches, bank machines, telephone banking, online banking and mobile banking
Shop in Canada using Interac® Debit
Shop at stores in the U.S. and internationally where Visa is accepted
Shop online, over the phone or by mail at participating retailers where Visa and Visa Debit are accepted
Better ways to bank with CIBC
Your life in Canada – what you need to know
Moving to a new country can be challenging. Whether you're already in Canada or making plans from overseas, CIBC is here to help.
Choosing the right bank account
To get established in Canada and start building your financial future, you'll need a bank account.
Save your recently viewed products
Turn on this feature so you can easily come back to CIBC pages you've visited. You can turn it off or clear your saved history any time.
Terms and conditions

Show or hide

1 These offers may be changed or withdrawn at any time. Unless otherwise specified, special offers are limited to one per person. Offers apply to newly-issued products only. To be eligible to receive these offers, the customer must present a valid Canadian Work Permit 12 months or greater and request the CIBC Offer for Foreign Workers when applying for a product. Other conditions apply.

2 Offer available on new CIBC Smart™ Accounts only. A transaction includes cheques, withdrawals, transfers, pre-authorized payments, bill payments (including CIBC Credit Cards and CIBC Personal Lines of Credit) and debit purchases. The waived fees are the regular monthly account fee as shown in the Personal Account Service Fees brochure. Additional fee(s) apply to withdrawals from non-CIBC bank machines and transactions in foreign currency (including cheques written in currencies other than the account currency). These fees apply to all customers, including CIBC Advantage for Youth, CIBC Advantage for Students and CIBC 60 Plus Advantage customers. Although transaction fees, including for processing cheques, are waived for one year, a fee applies if you purchase a booklet of cheques. Fee waiver is in effect for one year, after which regular monthly and transaction fees will automatically apply without prior notice. The additional $1.50 service fee is waived for sending Interac e-Transfers. Each Interac e-Transfer you send counts as a transaction for calculating your monthly fee.

3 "Paperless" record keeping is a paper-free alternative to statements and bankbooks. This option enables customers to track account activity online or by phone or CIBC bank machine. Please note, no electronic or printed statements will be sent to customers selecting this option. Customers must review their account transactions through CIBC Online or Mobile Banking, CIBC Telephone Banking or CIBC bank machines at least once every 30 days and examine all entries and balances at that time. If there are any errors, omissions or irregularities, customers must notify CIBC in writing within 60 days after the date on which the entry was, or should have been, posted to the account.