Accessibility Quick Links
5 wealth planning tips on how you can align both your wealth planning and personal goals to strengthen your financial future.
Today, women control a substantial $2.2 trillion in financial assets. That number is projected to rise to $3.8 trillion — about a third of total financial assets in Canada — by 2028. These figures are not just statistics. They're an empowering testament to the growing financial influence of women.
With such potential at your fingertips, how can you ensure your wealth planning aligns with your personal goals? Jeanette Power, Senior Wealth Advisor at CIBC Wood Gundy and Private Wealth, offers five tips to strengthen your financial future. For more information, visit The Power Investment Team Opens in a new window.
1. Harness the power of a long-term financial plan
Life can be unpredictable, but your finances don't have to be. Taking control of your financial future means preparing yourself financially. It should include both expected milestones, like retirement, and unforeseen challenges, such as job loss.
What's at the heart of these preparations? A forward-looking approach to wealth planning. Power recommends having a solid strategy in place — one that provides clarity on your financial goals, outlines actionable steps for achieving them and ensures you're well-equipped to handle whatever monetary curveballs come your way.
2. Factor in life's big decisions
As you celebrate milestones and navigate anticipated changes, your financial needs will shift. This means you may want to have a financial blueprint that's flexible enough to evolve along with you. Women face a unique set of challenges while building their careers and wealth, from raising a family to providing caregiving. Priorities shift over their lifetime, underscoring the need for up-to-date wealth planning.
Let's say you're planning to take a break from work next year to pursue a passion project or go back to school for an advanced degree. While rewarding, they may lead to a temporary change in your income. Set yourself up for success by crafting a comprehensive wealth plan. Develop it with future decisions and changing needs in mind.
3. Keep your financial plan fresh
Your life and the world around you are in constant flux and a good financial plan should keep up. Regular check-ins and updates are essential to ensure your plan remains aligned with your goals. Maybe you've been thinking about a sizable contribution to a charitable cause that's close to your heart. Or perhaps there's a new tax law on the horizon that will impact your investments. By regularly staying in touch with your advisor and revisiting your financial strategies, you can ensure you're not only adapting, but you're also making the most of every opportunity.
4. Understand your financial DNA
Views on money are as individual as fingerprints, shaped by upbringing, experiences and personal choices. As Power points out, "Everyone has a unique relationship with money. This can be inherited from parents or through life experiences, both positive and negative."
It's essential to dig deep to understand the patterns of this relationship and use the knowledge to your advantage. If you grew up in a household where saving was emphasized, you might lean towards conservative investments. By understanding your personal money narrative, a financial strategy can be tailored to reflect your values.
5. Partner with the right financial advisor
Having a trusted advisor by your side can make all the difference. It's not just about crunching numbers. It's about having someone who understands your unique financial story and can guide you through life's twists and turns.
Take major career moves or early retirement plans as an example. For such pivotal moments, the insights of an advisor you trust can be game changing.
They bring a wealth of experience and expertise so every financial step you take is informed and aligns with your goals.
Are you on track to meet your personal and financial goals? Let's connect to see how we can help you.

This article is based on content originally written for The Globe & Mail.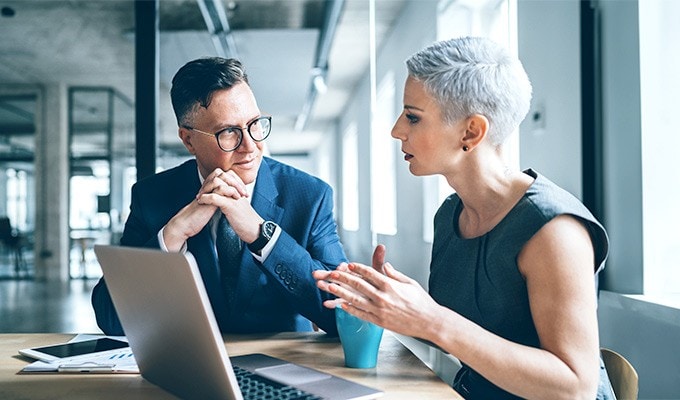 Ready to reach out?
Tell us about yourself and your wealth goals. We'll match you with a Private Wealth advisor to offer tailored advice for your unique financial needs.