Accessibility Quick Links
We're on a journey to becoming the leading provider of private wealth solutions across North America. We're backed by a passionate team of experts driven to meet the needs of our clients.
Our competitive advantage is our team's passion, excellence and commitment in service of our clients and communities every day.
Hear from our clients and team members alike.

INCLUSIVE LEADERSHIP
Charles Martel has been awarded the 2022 Investment Industry Association of Canada (IIAC) Inclusive Leadership Award.
Charles is the Managing Director and Region Head Quebec, Private Wealth and Wood Gundy. He has played a vital role on different committees through the launch of several initiatives promoting diversity, equity and inclusion.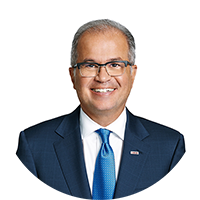 "As a leading bank of business owners and ultra-high net worth families, we understand the importance of a coordinated approach to addressing our clients' unique needs and complexities through every step of the journey. And by integrating our CIBC Commercial Banking and Wealth Management teams, we help ensure a smooth transition of your wealth within your family enterprise."
Jon Hountalas
Senior Executive Vice-President and Group Head
Canadian Banking
Investing in talent and success
Investing in and growing our CIBC Private Wealth talent is one of our top priorities as we continue to build on our inclusive and supportive culture. We believe in a purpose-driven and flexible team support model. One that nurtures advisors and their teams who thrive on their clients' success while growing their practice.
We're proud of the team we're building and we're thankful to our clients for allowing us help make their ambitions real.
Together, we are making our communities better
Giving back is deeply embedded in our culture and mirrors our genuinely caring belief that together as a community with a shared vision, we can overcome obstacles and emerge more united, resilient, prosperous and ready for the future.