Accessibility Quick Links
Why investors turn to CIBC Investor's Edge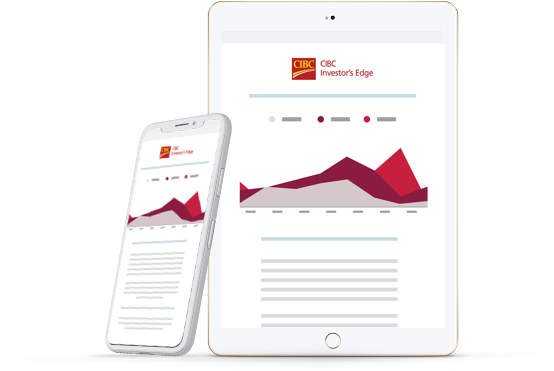 Take a tour of Investor's Edge (2:00)
Platforms, tools and research
Stay informed with free powerful tools, research and analysis from industry leaders.
Investment choices
Hold stocks, ETFs, options, mutual funds, fixed income, GICs, cash and more.
Choose your account
We offer a wide range of registered and non-registered accounts to help you save for your goals.
Apply for an account
Apply online. You could start trading in as little as 2 days.
Start trading
Take advantage of your low trading fee and explore your investment options.
Whatever your goal, we have the accounts

and investments

to help get you there
Use the space bar to play and pause the carousel. Use the left and right arrows to move between carousel items. The carousel stops when not in focus.
slider 1 Item 1 of 7
Benefits
Excellent long-term growth potential
Get cash flow with dividend-paying equities
Share in corporate success
slider 2 Item 2 of 7
ETFs

(Exchange Traded Funds)
Benefits
Access sectors and products otherwise unavailable to individual investors
Take advantage of intraday pricing and trading flexibility
Some are managed by professional fund managers and typically have lower management fees than mutual funds
slider 3 Item 3 of 7
Benefits
Get market exposure at a fraction of the cost
Choose from many different options strategies to help generate income, diversify or reduce risk
slider 4 Item 4 of 7
GICs
(Guaranteed Investment Certificates)
Benefits
Great for short- or long-term goals
A safe investment that protects your principal
Feel secure knowing how much interest you'll earn and when
slider 5 Item 5 of 7
Benefits
Great for diversifying your portfolio
Managed by professional fund managers
slider 6 Item 6 of 7
Benefits
A safer, conservative investment with a predictable income stream
Choose from a wide range of fixed income options
slider 7 Item 7 of 7
Benefits
Another way to diversify your portfolio
e-Certificates are a popular way to invest in gold and silver with no worries about storing and protecting gold and silver bars
Gold and silver e-certificates are eligible for your RRSP and TFSA accounts