Accessibility Quick Links
CIBC Escalating Rate GICs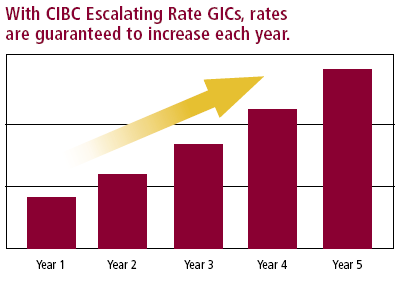 Premium returns and rates guaranteed to increase each year
CIBC Escalating Rate GICs combine security with premium returns and rates that are guaranteed to increase each year.
Plus:
The non-redeemable CIBC Escalating Rate GIC® offers a premium return above the CIBC Cashable Escalating Rate GIC and the CIBC Long-Term GIC
The CIBC Cashable Escalating Rate GIC® gives you the flexibility to access your money on each anniversary date or up to 7 days after
CIBC Escalating Rate GICs are available in 3- and 5-year terms for your non-registered, RRSP or RRIF/LIF portfolio
Your minimum investment is only

$500
Non-Registered Escalating Rate GICs

TFSA Escalating Rate GICs

RRSP Escalating Rate GICs

RRIF/LIF Escalating Rate GICs
For more information call 1-866-525-8622.
™ Trademark of CIBC
® Registered Trademark of CIBC
Save your recently viewed products
Turn on this feature so you can easily come back to CIBC pages you've visited. You can turn it off or clear your saved history any time.