Accessibility Quick Links
Our premium everyday card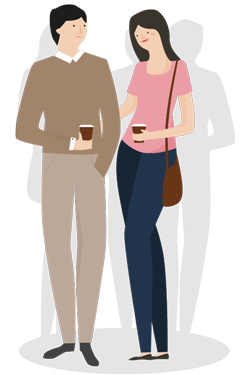 This card is perfect if you:
Want the insurance that comes with a premium credit card with no annual fee
Enjoy perks such as Avis® and Budget® car rental discounts2
Have a minimum household income of $15,000
---
No annual fee for additional cards (up to 3)
---
Interest rate - purchases3: RDS%rate[2].VPFLN.rate(null,null,6,null)(#R#)%
Interest rate - cash3: RDS%rate[2].VPFLN.rate(null,null,3,null)(#R#)%
---
Travel and shop with confidence
Included
Auto Rental Collision/Loss Damage Insurance1
$500,000 Common Carrier Accident Insurance1
Purchase Security & Extended Warranty Insurance1
Optional
CIBC Payment Protector™ Insurance for credit cards
CIBC Emergency Travel Medical Insurance
Even more reasons to choose the CIBC Platinum Visa Card
Authorized User Spending Limits
Assign specific spending limits for purchases and cash to your authorized user(s)4 – at no cost.
CIBC CreditSmart®
As a CIBC Platinum Visa Card cardholder, you can manage, track and organize your credit card activity – and get access to enhanced security features.
CIBC Mobile Banking®
On-the-go banking 24/7 with CIBC Mobile Banking® Apps for iPhone, iPad, Android™ and BlackBerry®.
CIBC Mobile Payment™ App
Make secure credit card purchases of up to $50 at participating vendors using an eligible smartphone6.
CIBC Online Banking®
View electronic statements, make payments and transfers, increase credit limits, request additional cards, and more.
Visa payWave™
Contactless payments for small purchases: a fast, safe and convenient alternative to paying with cash.7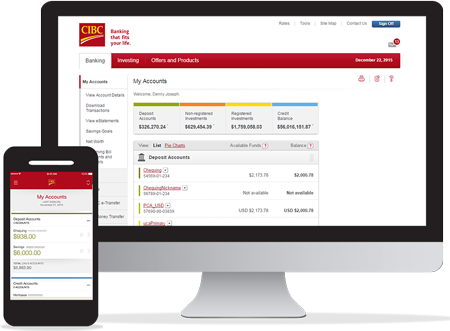 Don't reach for your wallet. Use your phone to pay
Discover the convenience of Apple Pay and Samsung Pay.
Save your recently viewed products
Turn on this feature so you can easily come back to CIBC pages you've visited. You can turn it off or clear your saved history any time.
Terms and conditions

Show or hide

1 Insurance coverage(s) included with CIBC credit cards are underwritten by Royal & Sun Alliance Insurance Company of Canada (RSA). Different cards will have different coverage(s). To learn about included insurance(s), and important information regarding coverage eligibility requirements, benefits, limitations and exclusions, see www.cibc.com/ca/credit-card/agreements-insurance.html and the insurance certificate(s) in your card package. Some insurance(s) require purchases, auto rentals, common carrier fares and other trip costs to be charged to the card to activate coverage (other conditions may also apply). Auto Rental Collision/Loss Damage Insurance (CLDI) is for rentals up to 48 days; and the rental must be charged to the card and the rental agency's Collision Damage Waiver (CDW) or Loss Damage Waiver (LDW) must be declined. CLDI provides coverage up to the actual cash value (ACV) of the rental vehicle as defined in your insurance certificate. Note that some car rental companies may assess their damages at an amount greater than the ACV of the rental vehicle and you may be liable to the car rental company for the difference. Therefore, before declining the car rental company's CDW or LDW, you should read carefully and compare the terms of the car rental agreement, the CLDI insurance certificate in your card package and any other insurance you own to decide which coverage best meets your protection needs. Certain RSA coverages are "excess insurance" (all other sources of insurance and recovery must be exhausted before benefits are available). For more information, call RSA toll-free at 1-866-363-3338 in Canada, continental U.S. and Hawaii or collect from elsewhere at 905-403-3338.

2 Discounts are determined by the participating rental agency and apply to time and kilometre/mileage charges only. Visit www.cibc.com for further details.

3 Interest rates will change from time to time on at least 30 days prior notice to primary cardholders. "Cash" means cash advances, balance transfers and Convenience Cheques.

4 Primary Cardholder may assign and change the Authorized User Spending Limits on your credit card account for any authorized user(s) by contacting CIBC. CIBC may make adjustments to the spending limits any time following a decrease in the Credit Limit or Cash Limit of the Card. "Cash" refers to Cash Advances, Convenience Cheques and Balance Transfers. For full details visit www.cibc.com.

5 We may withdraw approval if we become aware of any unfavourable information regarding your financial position or account status, or if you are unable to provide any additional information reasonably requested by CIBC. The application response time may take longer than 60 seconds in the event of technology issues. If you supply your email address, an application status email will be sent as soon as the technology issues are resolved. Otherwise, you will receive a response to your credit card application within 7 to 10 business days.

6 The Authorized User Spending Limit and the CIBC Mobile Payment App features cannot be used on the same credit card account.

7 Subject to merchant transaction limits.

All information is valid at the time of publication and is subject to change without notice.