Accessibility Quick Links
All-in-one banking that saves you money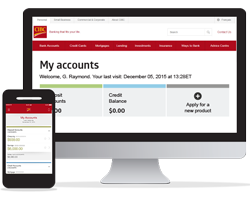 Unlimited banking transactions
Unlimited transactions1, including debit purchases, cash withdrawals, payments, transfers, cheques and online cheque viewing — so you can bank and shop as often as you want
Unlimited non-CIBC Interac bank machine withdrawals
Unlimited Interac e-Transfer service
Premium credit card included
Save on the $120 annual fee for your primary credit card and on the $50 annual fee for one additional card.
Choose from the following premium cards:
Save money on your investments
Pay no annual administration fee on your CIBC Mutual Fund RRSP4 investments
You'll also get
Free bank drafts, personalized cheques, money orders and stop payments2
Free CIBC Overdraft Protection Service3 – Stay protected – If your account is ever overdrawn, you'll be covered up to your approved credit limit
Earn chequing account interest on your balance, calculated daily and paid monthly4
Unlimited Interac e-Transfer service
A CIBC Advantage Debit Card® which lets you shop at home, around the world and online
Bank anywhere, anytime, on any device
More on mobile
Take a picture and deposit a cheque. Use your phone to pay for coffee. Connect to your Apple Watch™. Our award-winning mobile banking apps do all this and more.
Performance online
Track your spending, pay bills, transfer money – even set a savings goal for the future. CIBC Online Banking® has it all. And we've got the awards to prove it.
Save your recently viewed products
Turn on this feature so you can easily come back to CIBC pages you've visited. You can turn it off or clear your saved history any time.