Accessibility Quick Links
You may have just started working and retirement seems so far off in the future however, retirement planning needs to start somewhere. CIBC's advisors can help guide your retirement plan with investment solutions that meet your needs.
Here's how one of our advisors can make a difference. Read Paul and Lydia's Story
Paul and Lydia: We know we should be saving for our retirement, but we are unsure how to start. We need to learn more about investing so we can feel confident about our decisions. How can we start saving for our future without giving up the things we love today?"
"Because you're young, you two are in a great position to start saving for your retirement," Paul and Lydia's advisor explains with enthusiasm. "You probably won't be retiring for another 30 or 35 years. With that amount of time, even small amounts contributed regularly can grow to a substantial amount."
He suggests Paul and Lydia start with the basics: a Registered Retirement Savings Plan (RRSP). Their contributions are tax-deductible and may even generate a tax refund that they can put back into their RRSP or use to pay down debt. In addition, all income and earnings are tax-deferred as long as the money remains in the plan.
Paul and Lydia agree with their advisor that to balance their other priorities it's best to start off small. They know how important it is to start investing as soon as possible to give their money more time to grow. With the help of their advisor, they have identified that they can set up a CIBC Regular Investment Plan for $100 a month and plan to increase the amount over time.
To help them choose appropriate investments, their advisor uses the CIBC Investment Selector. Based on their needs, their CIBC advisor will help them build a diversified investment portfolio with the right mix of safety, income, and growth.
Thanks to their regular RRSP contributions, Paul and Lydia are confident they are on the right track — and they are still able to enjoy the things they love today. They're looking forward to meeting with their advisor again in a year's time — to review their progress to date and make any adjustments their plan might need.
I can only invest a small amount. Is that enough?
Our investment solutions allow for retirement savings regardless of the amount of your budget — small amounts add up, too. You may spend $5 a day for your morning latte. Trimming back on this expense could save you $25 a week and a $100 a month, which is a great start. It's easy to increase your contributions at any time.
Monthly investments can add up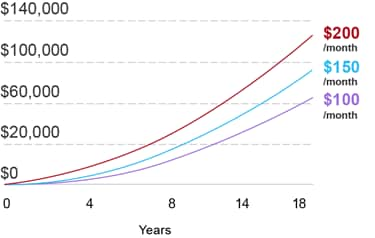 This chart is a hypothetical example to show the benefits of making monthly investments over time. It assumes an initial investment of $2,500 and an average annual return of 7%. The chart shows how monthly contributions add up after an 18-year timespan: $100 per month amounts to over $60,000; $150 per month amounts to over $90,000; and $200 per month amounts to over $130,000. This chart does not represent any actual investment, and the projections are before taxes. The value and return may vary, and different investments may perform better or worse than this example.