Accessibility Quick Links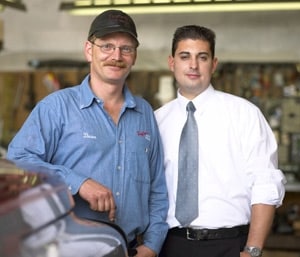 Dean Taylor of Taylor Auto Repair with his CIBC Senior Business Advisor, Jason Doucet.
Dean Taylor, Taylor's Auto Repairs
Finding the right business opportunity is one thing. Taking advantage of it is another. When opportunity knocked, Dean Taylor was ready - and CIBC was able to lend a hand when he needed it.
Dean and his family were living in Halifax, Nova Scotia when he got a call from a friend in Dean's hometown of Winfield, B.C. Dean's friend was selling his business, an auto repair shop. Although Dean hadn't operated a business before, he'd had his eye on the shop for years. "Why don't you sell it to me?" he suggested. His friend agreed and Dean drove west to close the deal.
When he arrived his friend suggested that Dean submit his business plan to Jason Doucet at CIBC. As the Senior Business Advisor for the shop previously, Jason knew the business and its potential and maybe he could help Dean get up and running.
Around this time, Mother Nature stepped in. Hurricane Juan had rampaged through Nova Scotia and left the Taylor household with several uprooted trees. Dean went back to Halifax, dropping his business plan at the local CIBC branch on Friday before he left. He spent the weekend with a chainsaw in hand, cutting and clearing. On Monday morning, Jason Doucet called Dean in Halifax. Jason had reviewed Dean's plan for financing and had just one question: How do you want it?
The approvals for the repair shop were done over the phone. Dean got the funds he needed to start up his first business. Taylor's Auto Repairs opened on December 1st, 2003. Eight months into his new career, the experience of running his own company is a welcome challenge for Dean. "I've run businesses for other people," he says, "but this is the first time I've run my own business." The biggest challenge? "Just trying to get all the work done."
When asked how it feels at the end of the day to run his own shop, Dean doesn't hesitate. "I'd never go back," says the proud owner of Taylor's Auto Repairs. "Entrepreneurialism is where it's at."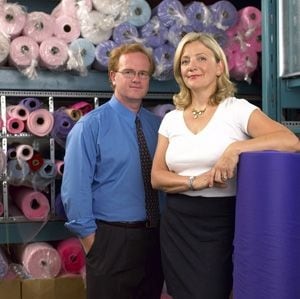 Joyce Keelan of Creative Education of Canada with Mark McCarthy, CIBC Branch Manager 1170 London Rd, Sarnia, Ontario.
The Keelan family
Running your own company isn't for everyone. It can be challenging, time-consuming and hard work. But if you ask Ray Keelan, he'll tell you it's the only way he ever wanted to do business. He ran his own companies for decades, passing his passion for entrepreneurship to his daughters Faith and Joyce, who now run their own businesses. CIBC has been their bank of choice for more than 50 years.
After the Second World War, Ray started working in his father's appliance business in Sarnia. Soon he took over the store and branched out, adding more major appliances, furniture and television equipment. Along the way he founded more companies. Backed by CIBC, Ray established SAL Financing to provide financing for his customers. When he needed to expand his facilities, RJK Holdings was born to handle his real estate needs.
It was never easy. Each business had its ups and downs. One year, Keelan's Furniture store burned down to the ground. Ray had to completely rebuild the store and restock the inventory, a tough time through which he says "CIBC was very supportive." But Ray persevered, and in 1990 he took a well-earned retirement.
Joyce started Creative Education of Canada in 1987, manufacturing early education learning tools and supplies. She came to CIBC to help her get up and running, and today the company is thriving. Joyce has gone from knocking on suppliers' doors in the early days to showcasing her products around the world.
One lesson that Joyce learned from her father: you won't move forward if you're afraid to make mistakes. But the benefits of being her own boss are immense. "I'm a risk-taking kind of gal," says Joyce, "I wouldn't trade it for anything."
When Ray retired, Faith took over the reins of RJK Holdings, handling contracts and investing heavily in Sarnia real estate. She also runs Brian's TV Rentals, a business that Ray started in 1965. Currently it supplies local hospitals with televisions.
Although Faith came from a retail background, she soon discovered that running a business was more rewarding. Talking about the independence of being an entrepreneur, she says, "You can make a decision and see it through. It's the best, absolutely the best."
Not surprisingly, three generations of entrepreneurs may soon become four; Joyce's daughter is enrolling at McGill University's Faculty of Management, potentially to learn the basics for her own entrepreneurial career. Clearly the business gene is strong in the Keelan family.
Save your recently viewed products
Turn on this feature so you can easily come back to CIBC pages you've visited. You can turn it off or clear your saved history any time.