Accessibility Quick Links
When the pandemic started, we decided that making hand sanitizer would be a great way to do our part.
I fell in love with craft cocktails and distilled spirits during a European backpacking trip. And during my undergrad years at Dalhousie University, I got a job working at a brew-your-own beer and wine shop and started experimenting with craft brewing with a friend.
After I graduated with a few more courses in wine and spirits under my belt I realized I'd found my passion. I love the entire production process — setting up the equipment and experimenting with the chemistry to make an amazing-tasting product. My business partners and I founded Pepprell Distilling Co. in 2016. The name comes from the street in Halifax where I lived during university, Pepperell Street.

Pepprell has always had a social and environmental mission at its core. When the pandemic hit our home town, we knew we had to do our part to chip in. Not only are we a community-focused business, but each member of our founding team has family members who are frontline workers or are in long-term care facilities. We were really motivated to find a way to make an impact.

We started discussing how to adjust our processes to make hand sanitizer instead of spirits. We knew this would be one way to help our immediate community, as well as others in surrounding Ontario cities. The manufacturing side of the transition was pretty easy, but the bureaucratic side was more of a challenge. Luckily, the government put programs in place to help distilleries make the shift, and we were up and running in about 3 weeks.

Our advisor, Elaine Purdy, at CIBC has supported us through the transition. She helped us set up digital banking solutions to make banking easier during the pandemic. And CIBC went the extra mile to enable a 300-litre donation to the Grand River Hospital Foundation, which has helped distribute to organizations in need in our community. This was particularly meaningful to me, since it's the hospital where my son was born.

We're now 100% focused on hand sanitizer production. We're making about 1,000 litres per week, with a goal to eventually produce 3 times that amount. We've been donating the product to local organizations in need. We recently expanded distribution to a few Ontario grocery stores, and we're selling directly to businesses who need sanitizers to protect their employees. Patrons who want to support us can also buy the sanitizer directly; we offer curbside pickup. We'll get back to producing spirits eventually, but right now, it's really rewarding to be able to get our sanitizer out to our community. And keeping with tradition, we named the new product "Hilwood Sanitizer," after the street in Moorefield, Ontario where our distillery is based.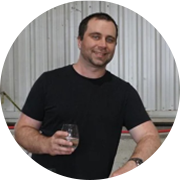 Written By
Josh Cormier
Pepprell's journey started in 2010 on the other side of the Atlantic. Our Head Distiller Josh Cormier was backpacking through Europe when he fell in love with craft cocktails and distilled spirits. He didn't know it then, but that experience planted a seed that would eventually grow into Pepprell Distilling Co.
Josh's mission is clear: "The only thing that's important is that our customers enjoy our product, and we deliver outstanding service. Simply put, the team is dedicated to developing spirits that taste really damn good. Now sit back and enjoy."

Contact us
Connect with a business banking expert on your schedule or in your community.