Accessibility Quick Links
"I'm a mom, so I know that quarantine has been tough on parents. We pivoted our pottery studio, bringing kits to 
kids — a
 great rainy day project."
Pottery is very meditative. It's soothing to feel the clay in your hands and listen to the gentle whir of the wheel. My dream was always to bring people together in a space to experiment with pottery, art and mindfulness.
Having been a teacher here in Hillsdale, Ontario for many years, I knew that our community was missing a place for kids to explore their creative side. I wanted to build something that would make creativity accessible to everyone, both kids and grown-ups.
Having found the perfect location for the studio 4 years ago, and with my husband's help this past January, I was finally able to open Lagom Studio Opens in a new window.. When we officially opened, I had to pinch myself; it was a dream come true. The studio goes beyond ceramics. I offer canvas painting and jewelry making, and I make and sell heART stones, which are little heart-shaped mementos with inspiring messages for special occasions.
I started out hosting kids' pottery sessions on Saturday mornings and classes for adults in the evenings. Watching the kids make art out of clay is so much fun. Their eyes light up when they work on the wheel. The classes let me express my joy for teaching in a totally new way.
In March, the pandemic hit, and I had to close up shop. It was nerve-racking, especially so soon after opening. But instead of giving up, I started brainstorming how to make the studio into a virtual experience.
I started offering take-home paint-your-own-pottery kits and offering customized heART stones for sale online, with a portion of the proceeds from the stone sales being donated to a local mental health association. Customers pick up the kits, which contain glazes, brushes and instructions. When they're done painting, they bring their project back to the studio. I fire it and have their art ready in about a week. I'm also staying in touch with customers through an e-newsletter.
Louis Choi, our advisor at CIBC, has been so supportive throughout this stressful time. He helped us enrol in the deferral program, giving 6 months of relief on our loan for the studio property, which took so much pressure off and let me focus on keeping the business running.
Now, I'm considering how to reopen safely. The studio is open by appointment only, and I hope to start small group classes again this fall. Of course, I'm listening to all the experts to figure out timing and strategy. Some of the online elements we've put up will stay in place. We now have an online shop for digital sales, and we now offer online registration.
I'm a mom, so I know that quarantine has been tough on many parents. The pottery kits are a great rainy day project. They're easy to do from anywhere. And the simple act of creating something beautiful can take your mind off things and help people tap into that meditative energy. My hope for Lagom is that it continues to be a creative escape online, at home and when we welcome customers back to the studio.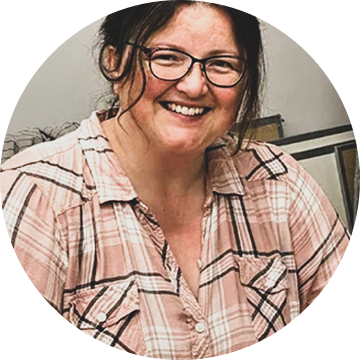 Written by
Cory-Lynn Styles
Lagom (law-gum) translates to "just right", a Swedish approach to living, and our inspiration for this studio. My Grandmother was fiercely proud of her Swedish heritage. Beyond innovative solid design and pop stardom infamy, my Scandinavian ancestors had more than a few things "just right" about living a meaningful, content life.
Lagom Studio was founded as a space that promotes community through creativity, shared experience and skill-building.
Contact us
Connect with a business banking expert on your schedule or in your community.