Accessibility Quick Links
Canada Wheels' founder Saleh Talebi has a simple philosophy: What he wants for himself as a shopper, he also want for his clients.
I've always felt a pull to start something of my own. In 2002, I came to Canada with my family, and I graduated with a degree in electrical engineering and a minor in business. I entered the workforce in 2007 and gained some great experience working for large tech companies. After five years I decided it was time to pursue my dreams.
I spent time at auto shows and manufacturing trade fairs, talking to people in the industry and trying to uncover areas of opportunity. I discovered a gap in the auto parts market. Most auto parts have very specific fitment applications. At the same time, many auto parts manufacturers end up with excess inventory, since production for small orders can be expensive.
To solve this unique problem, I launched CanadaWheels.ca Opens in a new window.. The company is an award-winning e-commerce platform that radically simplifies the process of buying tires, wheels and automotive parts.
This was a very traditional industry, so we were the first player to execute direct shipping to customers, evolving the auto-parts space. We developed relationships with Canadian tire and rim manufacturers by pitching direct inventory selling to the end user. This allows manufacturers to reduce the need to hold inventory in warehouses across the country.
We learned just how critical relationships are in this business. Our relationships with manufacturers both in Canada and abroad helped us get our foot in the door.
Similarly, the relationship we've built with CIBC has been a huge part of our success. CIBC was my first bank; I've been using them personally since I first moved to Canada as a student. Whenever I reach out to them for help with the business, I have their full support. I'm grateful for the entire team at my local banking centre at South Keys in Ottawa.
As CanadaWheels.ca has grown, we've offered many services for our customers: faster delivery, more inventory options, and savings. In the past, it sometimes took weeks for an order from a traditional manufacturer to arrive. Now, when a client places an order with us, we deliver anywhere in Canada within a day or two. We also have a network of certified installers to make the process as seamless as possible.
The pandemic made us accelerate our plans and rethink our business model. With everybody staying at home, more people are shopping online. So, we jumped on the opportunity to expand our product offerings to include more automotive accessories. We've seen a big spike in online shopping and leads.
We know our biggest commodity is our clients' trust. We are very transparent about any potential impact caused by COVID-19. To prevent spreading the virus, we suspended returns for one month. When we experienced shipping delays on orders, we were as proactive as possible to alert our clients about this change in normal service.
Understanding our clients' financial strains, we started offering financing on our purchases: six months at no interest.
During the pandemic and beyond, we aim to be constantly innovating. We pride ourselves on the ability to adjust to new consumer habits. As a technology company, we're working on the next generation of our platform, which will use artificial intelligence to improve the user experience.
Our philosophy is that what we want for ourselves as shoppers, we also want for our clients. We were the first in Canada to offer free shipping on automotive parts. We were the first to offer visualization of products before customers buy.
Ultimately, we want to be the Amazon for auto parts in Canada and beyond — a one-stop shop. We also have our sights set on expanding into the U.S. market under the brand USAWheels.com.
It feels great to be leading the change of an industry. My habit of dreaming big hasn't dwindled at all — we're still full steam ahead. It's amazing to have a team around me that is passionate every day.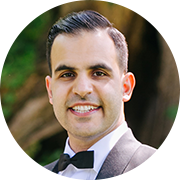 CLIENT BIO
Saleh Talebi
Saleh Talebi brings his former expertise in electrical engineering and business planning to entrepreneurship. He is the founder and Chief Executive Officer of the award-winning automotive parts e-commerce platform, CandaWheels.ca.
Contact us
Connect with a business banking expert on your schedule or in your community.