Accessibility Quick Links
It's a challenging time — and we're here to help you
March 13th, 2020
This has been an unprecedented week, both in terms of market volatility and with all that is changing rapidly as a result of COVID-19.
Current headlines paint a picture of a world where uncertainty and fear are the dominant themes. There is no shortage of questions surrounding COVID-19 and how it has the potential to touch all aspects of our lives – personal and professional.
Over the past few weeks, and particularly this week, I have talked to many of our clients. Like you, they have questions about what is going on around us, so I thought I would write to you directly to share my thoughts and outline the actions we are taking to help all of our clients navigate through this environment.
First and foremost, I want you to know that our team is here to help. Whether it's meeting your banking needs or discussing your long term financial goals, we have plans in place to be here for you when you need us:

Maintaining a high level of banking access and support – We have business continuity plans in place to ensure we continue to meet your needs even in times of disruption such as this.
This includes having some members of our team working at alternate office locations or from their home to ensure continuity of service, restrictions on business travel, limiting group meetings for our team members, and cleaning protocols for public spaces such as our banking centres and offices. In addition, our online and mobile banking services are available 24/7 to allow you to bank from home, and we operate one of the largest ATM networks in the country to help you with access to cash or bill payments. The environment is rapidly evolving and we remain committed to keeping you informed every step of the way.
The Canadian banking system more broadly and CIBC specifically are strong, well capitalized and ready to support our clients through this period.
Providing expert advice – We understand that in a rapidly changing environment, access to advice and expertise is essential. With recent volatility in equity markets and changes in interest rates, our team is ready to meet with you or connect by phone to review your financial plans. Many of our clients have asked what they should do to protect themselves in the current market. As a general rule, the answer is that you should stick to the plan you've put in place. The reason you have a financial plan is for times like this – to help put short term market fluctuations in the context of your long term ambitions.
Protecting our team and you – Our team takes care of you, and we are committed to taking care of them. We are providing our team with the most current information and guidelines from government and health authorities to support their well-being. Our benefits and sick leave policy ensures that team members can take time off in the event of illness. We're working together to ensure your needs are met.
If you have any questions, please feel free to talk to one of our advisors, call 1-800-465-2422Opens your phone app., or visit cibc.com. I want to thank you for trusting us with your business, and assure you that your bank is here to help.
Sincerely,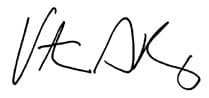 Victor Dodig
President and CEO, CIBC