Accessibility Quick Links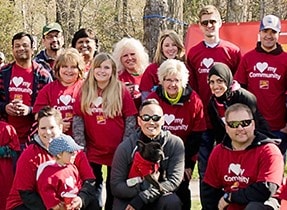 Stakeholder engagement is critical to how CIBC conducts its business. We use a variety of methods to strengthen stakeholder relationships, including gathering feedback and gauging the perceptions of our stakeholders to ensure that we are meeting their evolving needs and expectations, and using this feedback to change how we run our business. For a list of stakeholder engagement activities, refer to our most recent Corporate Responsibility Report.
The Environmental Risk Management group regularly consults with stakeholders to stay informed of best practices. Where appropriate, due diligence policies and processes are shared with stakeholders at the development stage. We continue to engage with stakeholders on issues of environmental concern.
CIBC actively communicates our Corporate Environmental Policy and program initiatives to our employees and other stakeholders. CIBC strives to educate, train and motivate our employees to conduct activities in an environmentally responsible manner.
Our employees support numerous activities throughout the year focused on making a positive impact on our environment and the community. Some examples of these activities are our CIBC Environment Day, Earth Hour™, Earth Day®, Waste Reduction Week, and FSC® Friday.
CIBC communicates with our employees through the internal CIBC and the Environment website and through the CIBC Environment Community on our intranet.
The Environmental Mailbox was established as an interactive method of communication between CIBC, our employees and the general public. Environmental questions, comments or concerns can be directed to the mailbox.